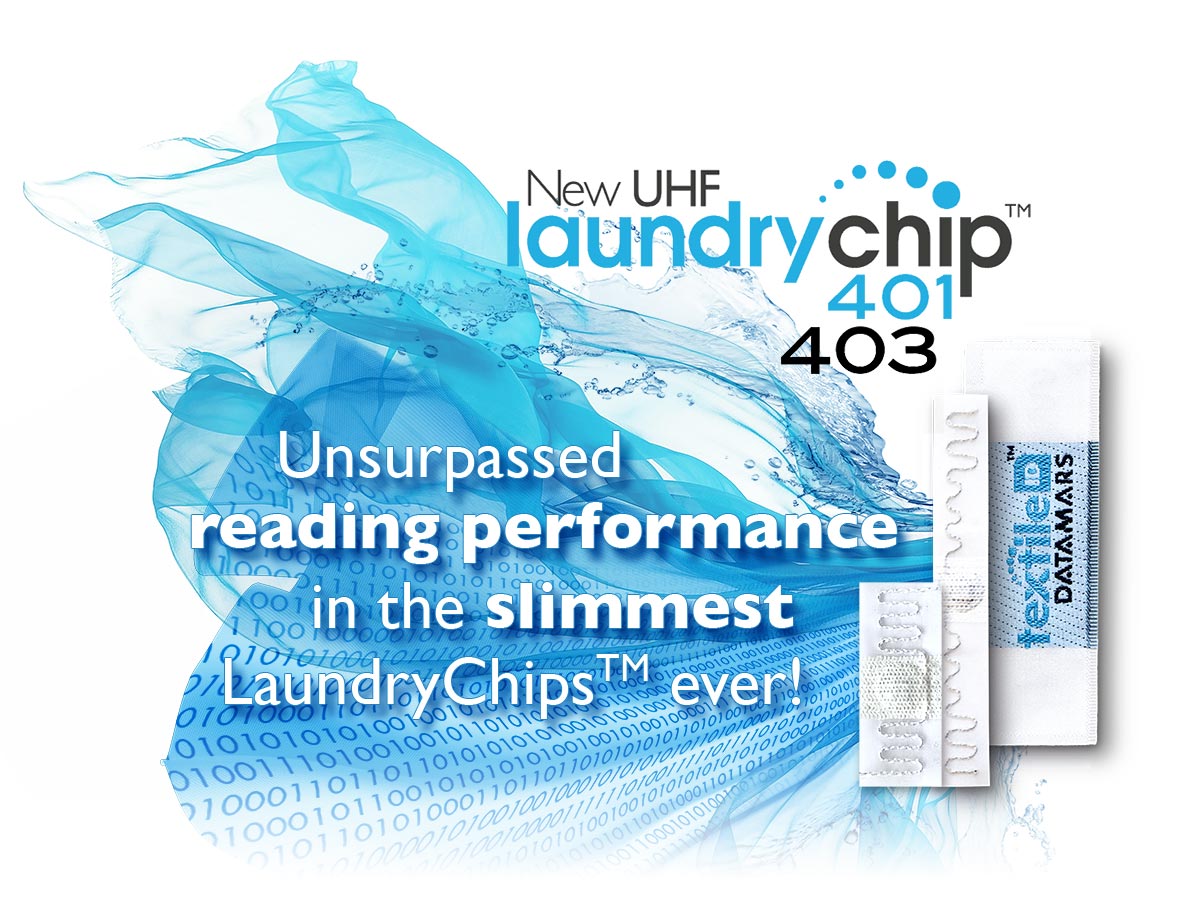 UHF LaundryChips™ 40x family: the undiscussed market leader
The best reading performance and endurance in the harshest laundry conditions… in an incredibly small size!
Now available in 2 different formats and features to better adapt to different needs and applications.
LaundryChip™
401

and

403

: features and benefits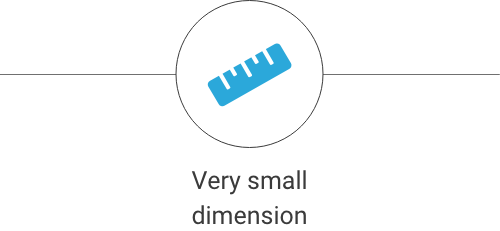 EXTRAORDINARY NO-WEAR FEEL FOR EXTREME COMFORT, IMPERCEPTIBLE AND UNNOTICEABLE!
Perfect for insertion into the narrowest hems of the finest flat linen… and into all kind of garments (private & work wear).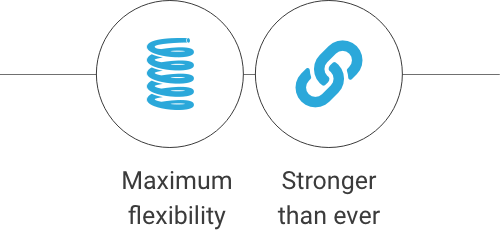 HIGHEST LEVEL OF THERMAL AND MECHANICAL RESISTANCE EVER
Tested in real-world laundries and guaranteed for 200 washing cycles with water extractors up to 60 bar; resistance to very high temperatures (up to +200°C) and to all common chemicals.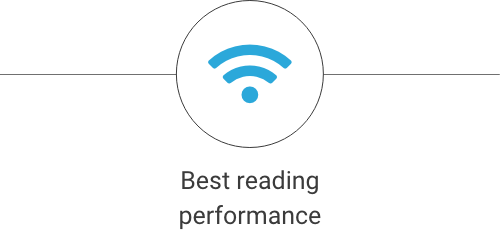 UNSURPASSED READING PERFORMANCE IN THE TEXTILE LAUNDRY MARKET!
Ultra-high density bulk reading up to 2,000 pieces and read distances of up to 6 meters (only Laundrychip 401).
Patented Double Loop Antenna

The double loop antenna significantly improves the electrical coupling between the central module and the secondary antenna allowing Datamars LaundryChips™ to use extremely small micro-modules while maintaining state-of-the-art electrical performance.
The small size of the module also guarantees an unsurpassed mechanical resistance, being a small module more resistant than larger one while making the tag imperceptible.


STANDARD 100 by OEKO-TEX®
Tested for harmful substances.

MR CONDITIONAL
Suitable for use in magnetic resonance equipment (1.5t and 3t).
(only for Laundrychip 401)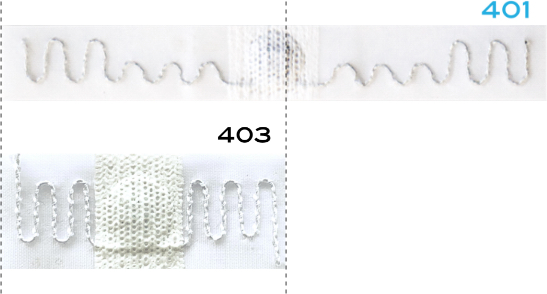 Perfect for those applications that need the best reading performance ever (ultra-high-density bulk reading) guaranteeing at the same time a no-wear feeling and unnoticeable look (e.g. Flat linen, Work wear).
Perfect for those applications that can cope with shorter reading distances but where the transponder is required to be absolutely undetectable thanks to its smallest dimensions ever (e.g. Private wear).
Dimensions
Reading
Perfomance
Mechanical
Resistance
Flexibility
Certifications
Available versions
Laundrychip

401

70 x 10 x 1.3 mm
ultra-high-density bulk reading (

6 mt, up to 2000 pieces

)
Same for 403 and

401

Same for 403 and

401

ISO I8000-6C compliant,

MR conditional

and Oeko-Tex® certified
3 versions: ST (source tagging -sewn-), PA (patchable -heat-sealable-) and in pouch
Laundrychip 403

37

x 15 x 1.3 mm
Small bulks reading
(3 mt, up to 30 pieces)
Same for 403 and

401

Same for 403 and

401

ISO I8000-6C compliant and Oeko-Tex® certified
A single version ST/PA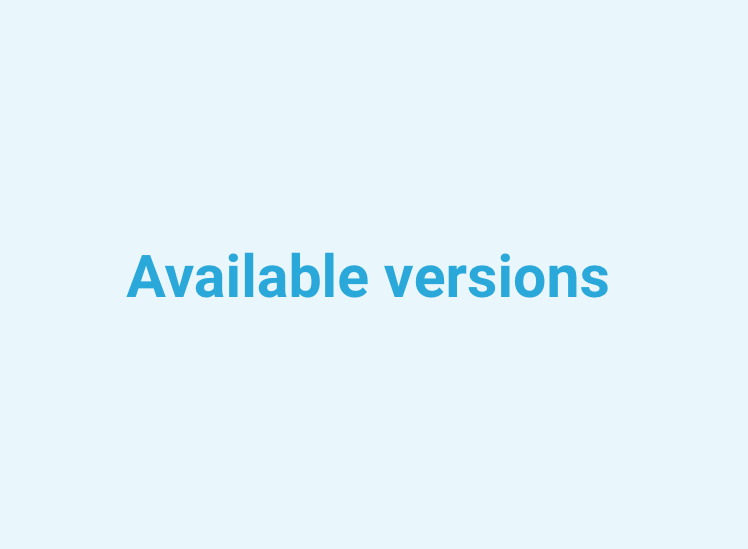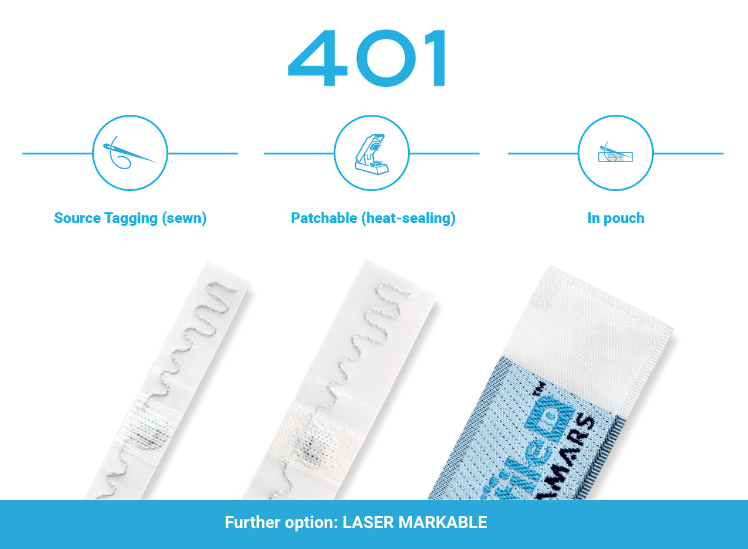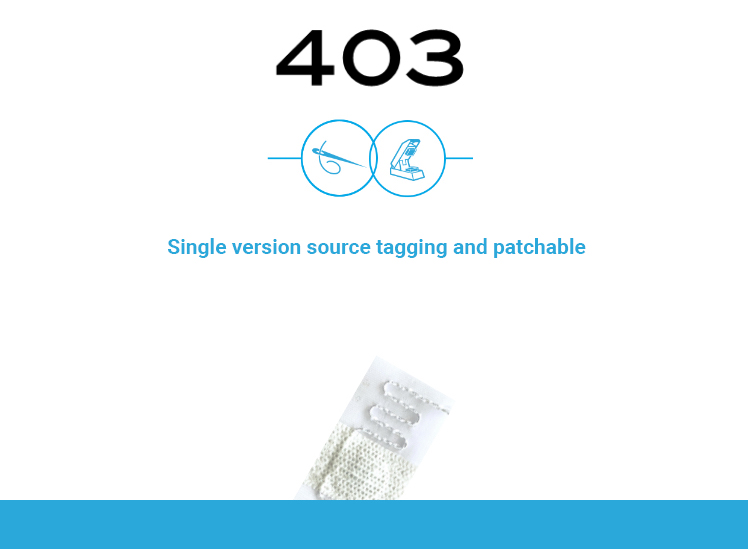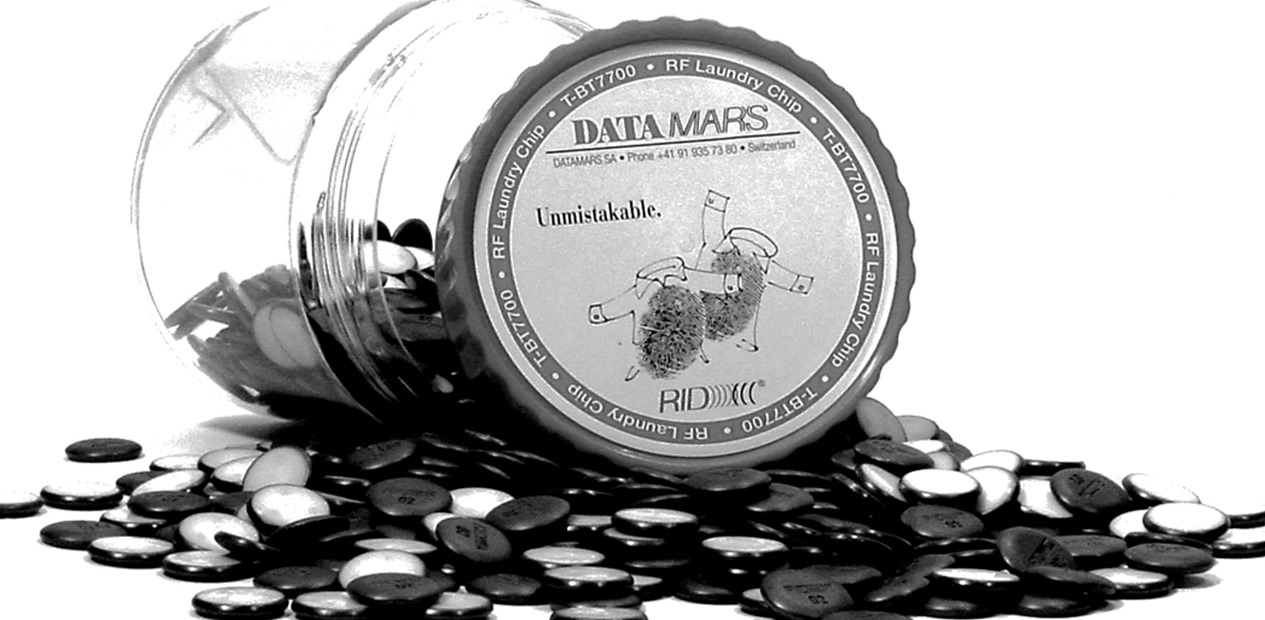 The LaundryChipTM: a long history
The LaundryChipTM was invented by Datamars in 1990, the first RFID transponder specifically designed for the industrial laundry sector. Over the years Datamars has continued to innovate, developing a vast range of strong and robust transponders in different sizes and packages up to the latest multi-read UHF LaundryChipTM, developed for high-volume bulk-read applications.