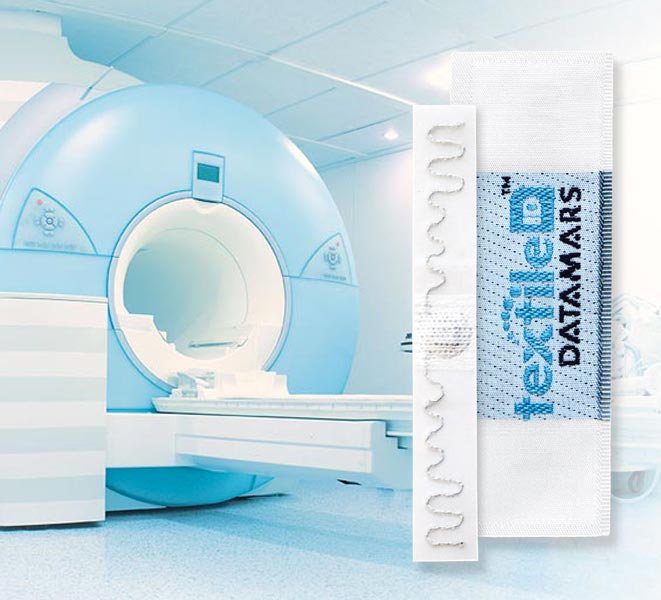 Use of RFID transponders in MRI systems
UHF RFID transponders are used in hospital and healthcare facilities to track and trace any type of linen from patient gowns to linen or surgical textiles. Due to their widespread presence, it is not uncommon to find them in textiles worn by patient during Magnetic Resonance Imaging (MRI) exams.
Since MRI relies on strong static magnetic fields, any item containing metal or conductive elements could potentially lead to unwanted effects when placed in an MRI scan device. Such effects ranges from excessive heating and displacement that could harm the patient, to image artefacts (anomalies) that could compromise the diagnosis. All RFID transponders contain conductive element and thus fall in this potentially dangerous category, that's why it is then extremely important to accurately test them for MRI compatibility.
The MR conditional label (already obtained by Datamars in 2017) guarantees that a device is suitable for being used in MRI equipment, both in terms of patient safety and diagnosis integrity. This means that a patient wearing a textile with inside a Datamars' RFID transponder can be safely scanned in an MR system at 1.5 or 3 Tesla. The MR Conditional label, however, does not impose any limitation on the artefact size since artefact doesn't have a primary safety impact. Nevertheless, artefact's presence can impact the medical diagnosis and it is thus important to reduce the artefact caused by the RFID transponder to a minimal size.
To ensure that its UHF Laundrychips have the highest level of safety and quality for MRI compatibility, Datamars performed extensive studies and validation tests going one step further by analysing configurations not considered in ASTM standards driving the MR Conditional labelling, until the recent publication of a whitepaper that represents today the most comprehensive documentation on the market about the use of RFID transponders in MRI environment.
Datamars' whitepaper "RF heating, Force, Torque and Artifact of RFID tag"
Based on accurate MR validation tests commissioned to MR:Comp GmbH, an accredited ISO certified lab in Germany specialized in testing devices for MRI safety and MRI compatibility, Datamars' whitepaper focuses on worst case usage conditions of UHF RFID tags in MRI environments and compare them to the results obtained for MR Conditional labelling. Patient safety is the first driver of the whitepaper while some considerations are made regarding the possible impact of image artefacts on medical diagnosis.
Unlike other UHF RFID transponders, Datamars' ones are not only "neutral" – and thus safe – from a force and torque point of view but also almost invisible during imaging (artefact size <3.5 mm) such as not to influence the diagnosis.
Datamars has been able to obtain this result by previously making an in-depth analysis of each component used in its UHF LaundryChipsTM and, when needed, replacing them by a-magnetic elements. In fact, the reduction of the magnetic level of the tag antenna, by using a specially processed antenna wire realized with a patented technology, was the key to reduce the artefact size, ensuring at the same time the maximum quality and safety of the RFID transponder.
"We are proud to be the only RFID manufacturer in the market to use a patented technology to manufacture our UHF LaundryChipsTM antennas which makes them perfectly safe to use in MRI environment with the minimal image artefact" says Julien Buros, Datamars Textile ID Product and Services Director. "Unlike us, our competitors use technologies with a strong trade off: using metal-based antennas that can either be mechanically strong but generating large artefacts or feature small artefacts but being mechanically too weak to resist the harshest laundry conditions."