CONTROLLING COST WITH NO COMPROMISE ON HYGIENE AND PATIENT SECURITY
Controlling costs with no compromise on hygiene and patient security is a major challenge in hospitals and healthcare institutions. RFID tags embedded in garments and linen reduce manual handling on the soil side, increasing the hygiene levels and improving infection control; provide accurate wash count records helping to predict the end-of-life date for each textile and thus to plan purchases carefully; offer visibility into inventories avoiding delays in day-to-day non-stop garment availability and preventing lost and stolen items.
Discover all our RFID transponders and reading systems and read our case study in the healthcare sector: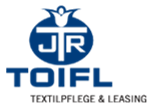 Austria: when RFID is the operational answer to a cutting-edge company mindset.
Are you looking for a custom solution for your business?
WRITE TO US!
Discover which kinds of TEXTILE ASSETS we can identify and trace with our RFID systems:
See our RFID solutions for other specific sectors of the TEXTILE LAUNDRY BUSINESS: