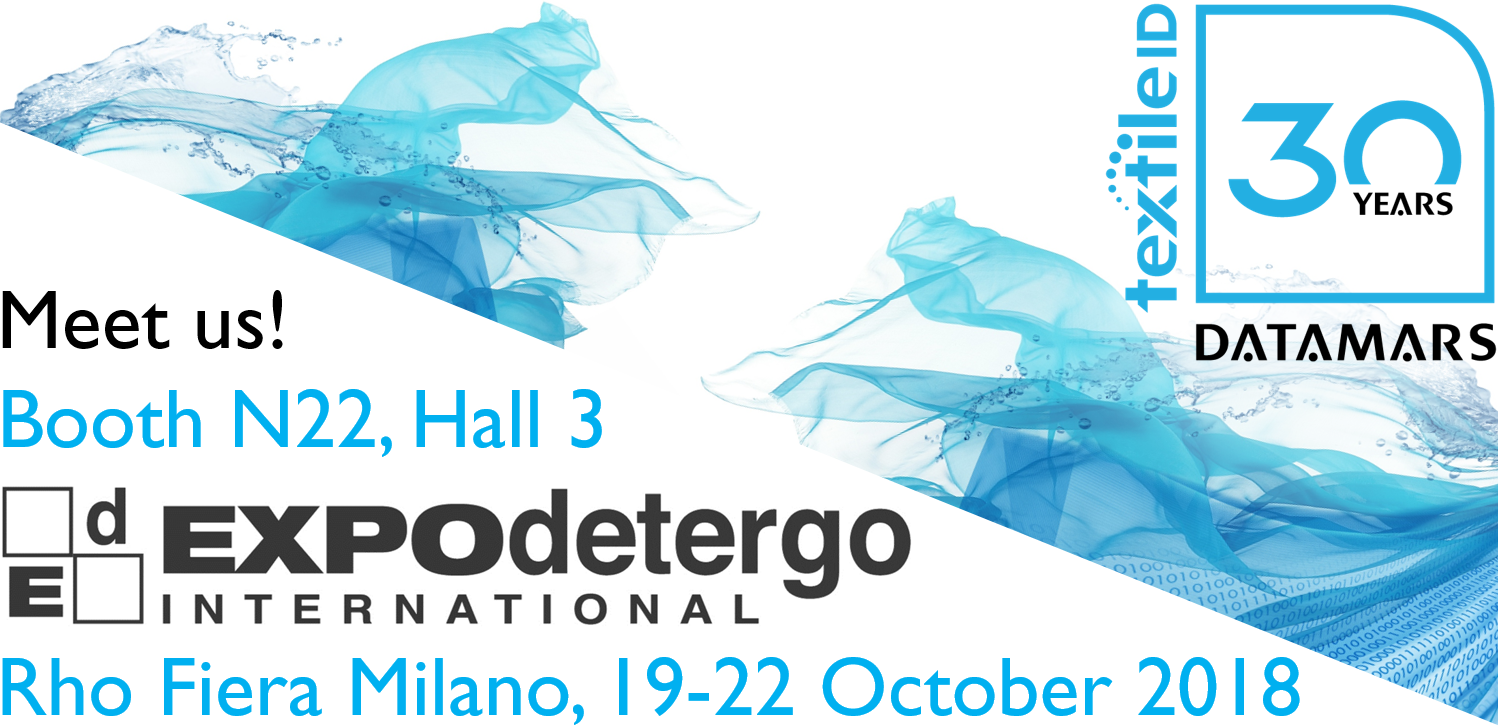 Datamars Textile ID is exhibiting at Expo Detergo 2018, the International Exhibition dedicated to products and services for the laundry business that will be held in October 19-22 at "Rho Fiera" Expo Center in Milan – Italy.
At its booth N22 – Hall 3, Datamars will showcase its expanding portfolio of RFID products & solutions, explaining to visitors how laundries and their customers can track textiles during their entire lifecycle, improving their cost structure and quality of service.
Five demo stations will show "live" how RFID technology can improve textile operations not only at laundry's but also at customer' premises (e.g. hotels, hospitals, nursing homes, …) covering workwear, private wear, flat linen and mats applications
On the 30th anniversary of the foundation of Datamars, many exciting innovations that target the increasingly demanding needs of the laundry industry will be introduced during the trade show.
Many new reading systems will be shown in preview at Expo Detergo 2018:
A plug and play tunnel (UHF TUNNEL 101) compatible with virtually any conveyor belt. The tunnel read stacks of 25 textiles with unprecedented accuracy and is totally transparent to laundry operations.
A new approach (UHF PORTAL 201) to read trolleys 'on the fly' with no compromise on reading accuracy or stray reads.
The Datamars cabinet (UHF CABIN 201) with the fastest reading speed ever! Our new UHF cabinets take on average just 3.5 seconds to read a trolley containing 1'000 items, that's half the time required by previous generation Datamars UHF systems.
On the SW side, the star of this exhibition will be a licensed laundry-specific software layer that runs on the Impinj Speedway® Revolution readers to take full advantage of Impinj readers in a laundry environment.
This new software enables laundry managers to quickly deploy the RFID system, it comes with pre-configured reading modes that optimize RFID reading performances depending on the reading station. It also allows users to easily integrate the UHF reader with no need for software development to control tag reading activity and retrieve EPC codes on standard communication interfaces or directly on the Cloud. The software is also aimed at controlling the UHF hardware when used in combination with HF and LF hardware, to allow a smooth transition between the different RFID technologies.
Furthermore, our experts will show our vast range of UHF LaundryChipsTM in different sizes and packages, up to the latest UHF 401 line. Launched in 2017 and successfully certified as OEKO-TEX® Standard 100 and MR (Magnetic Resonance) conditional, the UHF LaundryChipTM 401 is a new disruptive transponder generation that encompasses in a very small size (thickness halved and width reduced by 33% vs the previous generation 301) the best mechanical and electrical performances ever.
"Expo Detergo is for us a great opportunity to meet both existing and new customers and to share with the widest audience of its kind what RFID can do for the laundry sector" says Julien Buros, Product & Services Director at Datamars Textile ID. "At our booth we'll showcase to our visitors not only our latest innovations but even more how we can answer to their needs, demonstrating that RFID is no longer one of the possibilities, but the definitive option to boost their business."
Datamars' team will be available at the booth for additional inquiries and in-booth presentations throughout the trade show. An appointment can be made in advance by calling +41.91.935.73.80 or writing an email to textile-id@datamars.com. Furthermore, Datamars will be speaking at the Global Info Square Meeting Industrial Textile Services that will be held on Monday morning 22 October on topics ranging from the latest innovation & market developments to State of the Art automation concepts.
For further information please visit http://www.expodetergo.com/index.php/en/ and get online your entry pass in advance clicking on this pre-registration link.